Super Hotel was awarded 1st place for 3 consecutive years in less than 9000 yen category in overseas Japanese hotel guest satisfaction survey J.D.Power in 2016.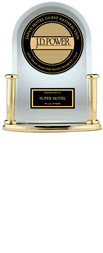 Thank you very much for using Super Hotel from the beginning. This time, the result of the Japanese hotel guest satisfaction survey of fiscal year 2016 was announced from JD Power Co., Ltd. which is an international specialized agency on CS (customer satisfaction) survey and consulting, and the Company announced that in the department under 9000 yen per night , I won first prize for the third consecutive year. The super hotel was able to receive the top rating in the factors of "check in / check out" "guest room" "hotel facility" "charge" "hotel service" "reservation".
This is also the gift of your patronage, thank you from the bottom of my heart.
We will continue to strive for all employees to further deliver customer satisfaction and excitement in the future.